Greenbox - Set da 3 pz.
Vaschetta per gatti monouso fatta di carta riciclata, 100% biodegradabile, confezione da 3 vaschette (dimensioni: 45 x 35 x 11 cm)
In stock - Shipped in 24/48 hours
Get up to 5 point(s) for purchase! Login to see an actual value.
Buy 2 for

€19.98

each and save

17

%
Buy 3 for

€18.98

each and save

21

%
Buy 4 for

€17.98

each and save

25

%
Buy 5 for

€16.98

each and save

29

%
Buy 6 for

€15.98

each and save

33

%
Buy 7 for

€14.98

each and save

38

%
Buy 8 for

€14.98

each and save

38

%
Buy 9 for

€13.48

each and save

44

%
Buy 10 for

€12.98

each and save

46

%
Greenbox di Greencat è la vaschetta ecologica ideale per contenere la lettiera: a casa, in viaggio e dal veterinario.
Realizzata in carta riciclata (e completamente riciclabile), Greenbox è molto resistente ed è comunque perfetta quando vi è la necessità di sostituire spesso la cassettina per motivi igienico-sanitari.

La vaschetta GreenBox è adatta a tutti i tipi di lettiera.
le condizioni prima del riutilizzo. Non necessita di lavaggio.
Ogni vaschetta può essere riutilizzata fino a 3 volte, basta controllarne le condizioni prima dell'utilizzo.
Questo prodotto è composto al 100% da materiali riciclati biodegradabili.

Benefici:
Meno odore.
Il pH della carta aiuta a neutralizzare 2 1 l'odore di ammoniaca
Piu' igienica della classica vaschetta
di plastica. Non necessità lavaggio 3 Impermeabile
Sicura per il vostro gatto

Facile da usare:
Utilizzabile con qualsiasi tipo di lettiera
E' possibile utilizzarla oltre 10 giorni*
Facile smaltimento


1 vaschetta = 20 giorni* 3 vaschette = 2 mesi
*Tempo di utilizzo suggerito per un gatto che vive in casa.
Il tempo di utilizzo dipende dalle abitudini del gatto. Regolare a seconda delle necessità.
E' possibile utilizzare la lettiera molto più a lungo di 20 giorni. La lettiera può essere riutilizzata.
More Information
| | |
| --- | --- |
| Measurements cm. | 45 x 35 x 11 |
How to use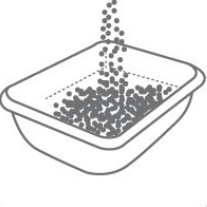 Pour Greencat in your cat litter, until you reach a height of 6-7 cm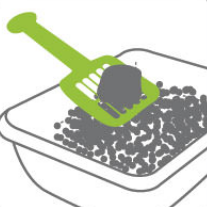 Remove the clumps every day with a scoop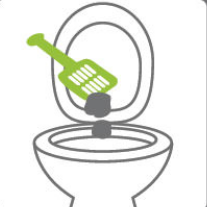 Dispose of the clumps directly in your toilet, one at a time or into the food waste bin
WHEN THE CAT USES GREENCAT FOR THE FIRST TIME, IT MIGHT TRY TO TASTE IT, BECAUSE IT RECOGNIZES THE CEREAL;
THIS DOES NOT AFFECT ITS HEALTH IN ANY WAY, SINCE GREENCAT IS 100% NATURAL