20 lt. Lettiera per gatti a base d'orzo
20 lt. Lettiera per gatti a base d'orzo
La tua famiglia felina è particolarmente numerosa? Non hai problemi di spazio e preferisci fare "scorta"? Il formato 20L è quello che fa per te!
In stock - Shipped in 24/48 hours
Get up to 4 point(s) for purchase! Login to see an actual value.
Buy 2 for

€18.50

each and save

3

%
Buy 3 for

€18.12

each and save

5

%
Buy 6 for

€16.97

each and save

11

%
Buy 9 for

€15.65

each and save

18

%
Buy 12 for

€15.45

each and save

19

%
Greencat è una lettiera al 100% ecosostenibile in quanto prodotta da una innovativa lavorazione delle parti non edibili dell'orzo che non possono essere utilizzate per produrre alimenti e dovrebbero quindi essere destinate allo smaltimento.
A differenza delle lettiere minerali quindi Greencat non solo non consuma suolo ma si inserisce perfettamente nel nuovo concetto di economia circolare.
Grazie ai suoi ingredienti naturali Greencat è totalmente biodegradabile ed è quindi possibile smaltirla nel WC, nell' umido, nel compost oppure può essere utilizzata direttamente come fertilizzante su orto o giardino.
Anche per questo motivo è una scelta non solo ecologica ma anche pratica, rendendo più agevole la gestione quotidiana degli animali domestici.
Grazie ad un esclusivo brevetto di trattamento delle molecole di ammoniaca elimina totalmente gli odori sgradevoli.
Soffice e piacevole al tatto, non si attacca alle zampette dei gatti e non riga i pavimenti.
Inoltre, a differenza delle lettiere minerali, Greencat non rilascia polveri che possono aumentare i rischi di malattie polmonari e alle vie respiratorie del gatto ed è pertanto completamente sicura.
More Information
| | |
| --- | --- |
| Weight / Liters For bag | 8,0 kg |
How to use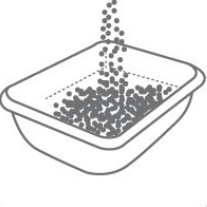 Pour Greencat in your cat litter, until you reach a height of 6-7 cm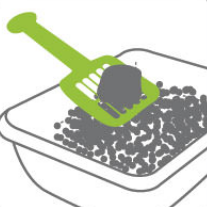 Remove the clumps every day with a scoop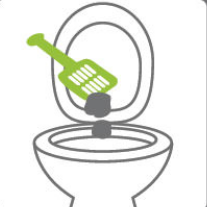 Dispose of the clumps directly in your toilet, one at a time or into the food waste bin
WHEN THE CAT USES GREENCAT FOR THE FIRST TIME, IT MIGHT TRY TO TASTE IT, BECAUSE IT RECOGNIZES THE CEREAL;
THIS DOES NOT AFFECT ITS HEALTH IN ANY WAY, SINCE GREENCAT IS 100% NATURAL