6 lt. Barley Litter
Biodegradable, sustainable and 100% natural litter produced in Italy from barley processing.
In stock - Shipped in 24/48 hours
Get up to 1 point(s) for purchase! Login to see an actual value.
Buy 3 for

€7.09

each and save

1

%
Buy 5 for

€6.92

each and save

4

%
Buy 10 for

€5.83

each and save

19

%
Buy 20 for

€5.34

each and save

26

%
Buy 30 for

€4.77

each and save

34

%
Greencat litter is 100% sustainable as it is produced by an innovative processing of the non-edible parts of barley that cannot be used to produce food and should therefore be discarded.
Unlike mineral litters, Greencat not only does not consume soil but also fits perfectly into the new concept of circular economy.
Thanks to its natural ingredients, Greencat is totally biodegradable and can therefore be discarded in the toilet, in the organic waste, in the compost or it can be used directly as a fertilizer.
For this reason, it is not only an ecological choice but also a convenient one, making the daily management of your cat easier.
Thanks to an exclusive patent for the ammonia molecules treatment, Greencat can completely remove unpleasant odors.
Soft and pleasing to the touch, it does not stick to cat's paws and does not scratch the floors.
More Information
| | |
| --- | --- |
| Weight / Liters For bag | 2,4 Kg |
How to use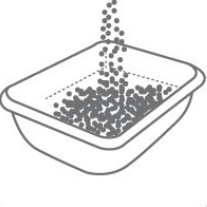 Pour Greencat in your cat litter, until you reach a height of 6-7 cm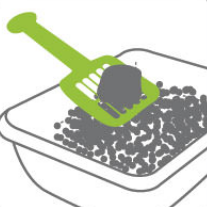 Remove the clumps every day with a scoop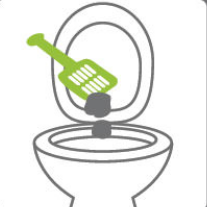 Dispose of the clumps directly in your toilet, one at a time or into the food waste bin
WHEN THE CAT USES GREENCAT FOR THE FIRST TIME, IT MIGHT TRY TO TASTE IT, BECAUSE IT RECOGNIZES THE CEREAL;
THIS DOES NOT AFFECT ITS HEALTH IN ANY WAY, SINCE GREENCAT IS 100% NATURAL